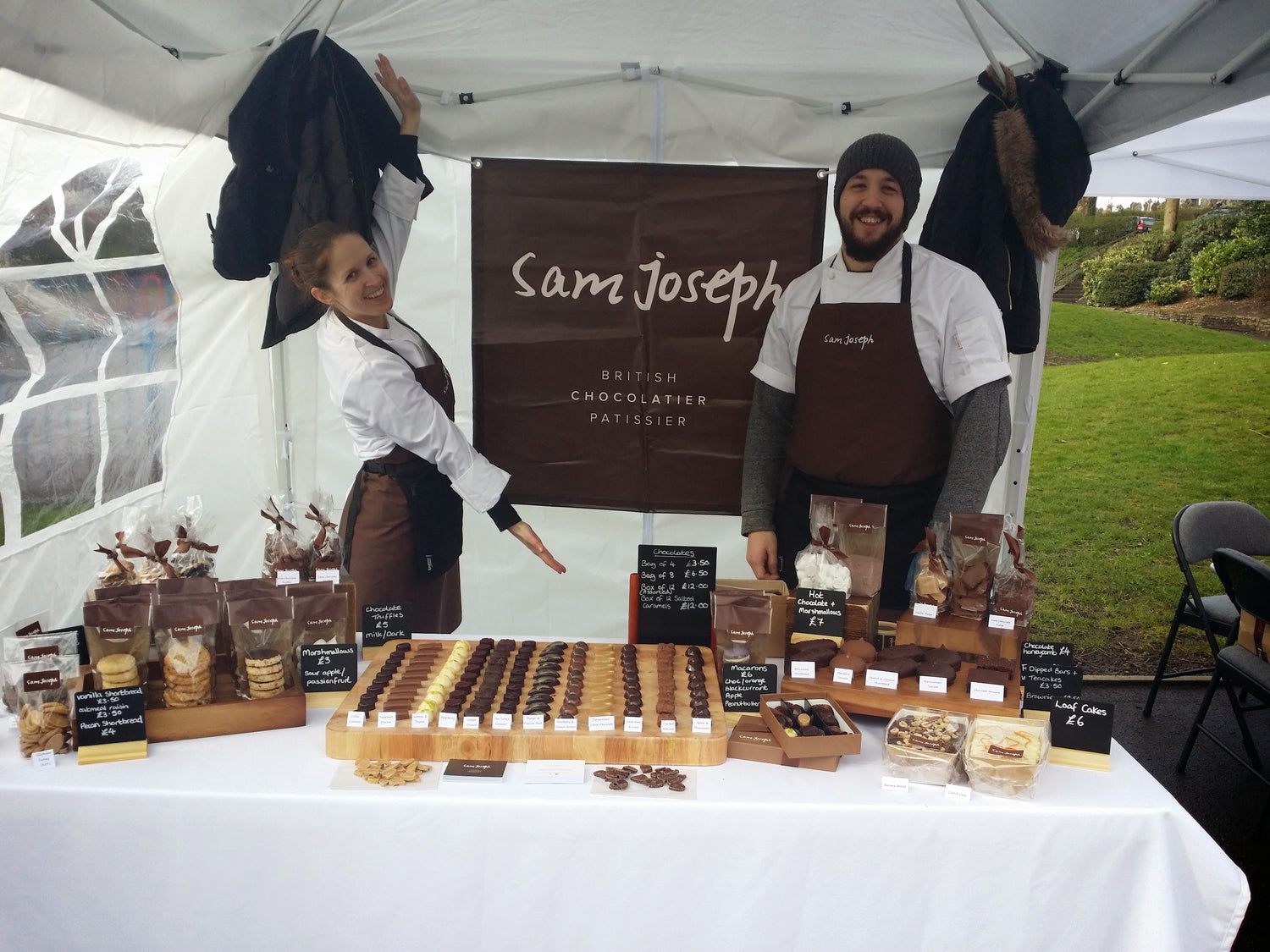 Beginings
In March 2014, the delectable story of Sam Joseph Chocolates unfolded as partners Sam and Claire, inspired by their pastry chef experiences in London, decided to bring their culinary magic back to Manchester. Setting up a production kitchen in Oldham, they passionately ventured into showcasing their delightful creations at every foodie market across the vibrant city.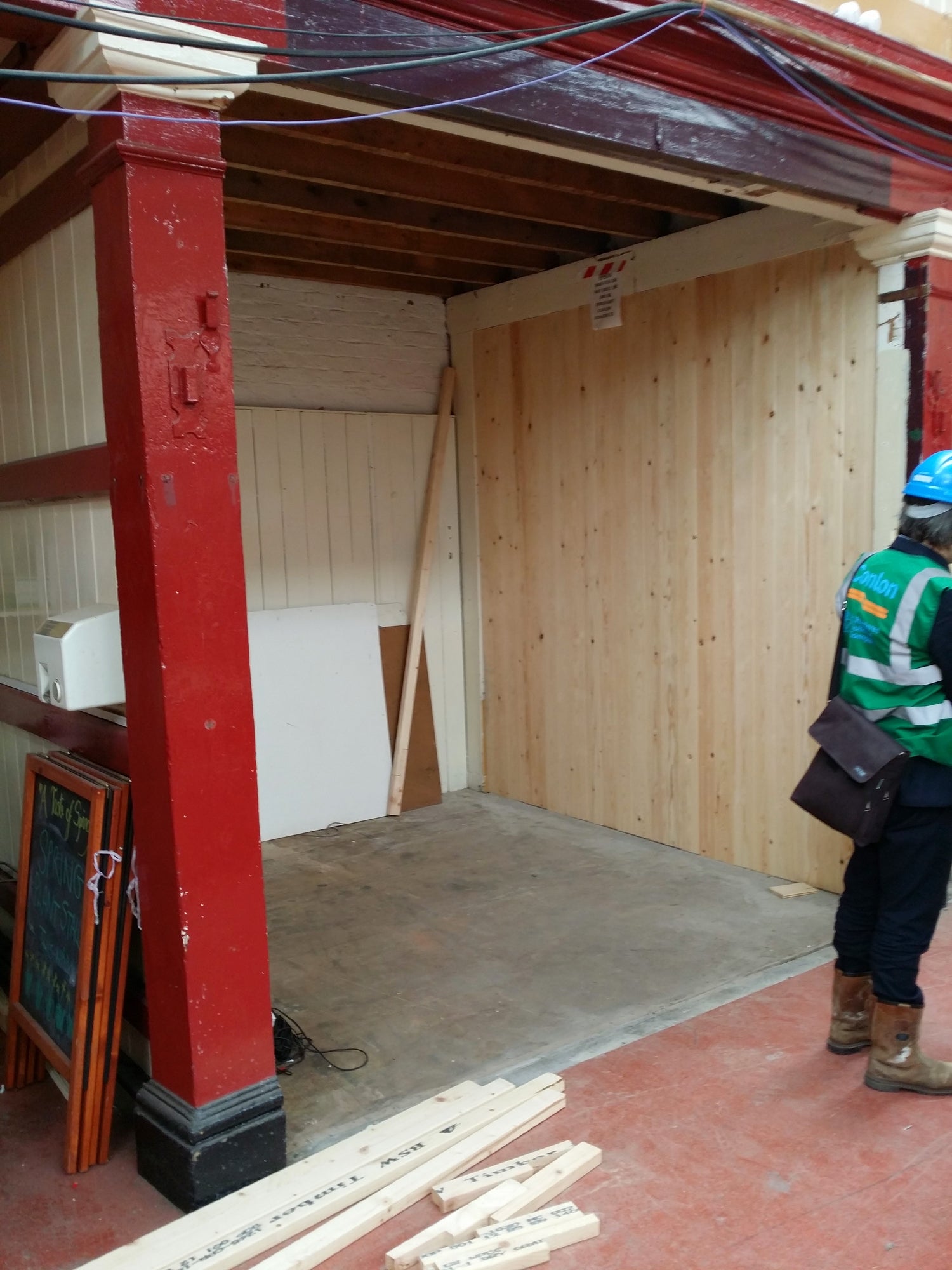 Altrincham Market - 2014
Following multiple successful appearances at Alty Market, fate smiled upon Sam Joseph Chocolates when they were extended a permanent invitation inside the soon-to-be iconic Market House later that year. Seizing the opportunity wholeheartedly, they invested every penny they had to set up shop, and well, the rest is deliciously sweet history.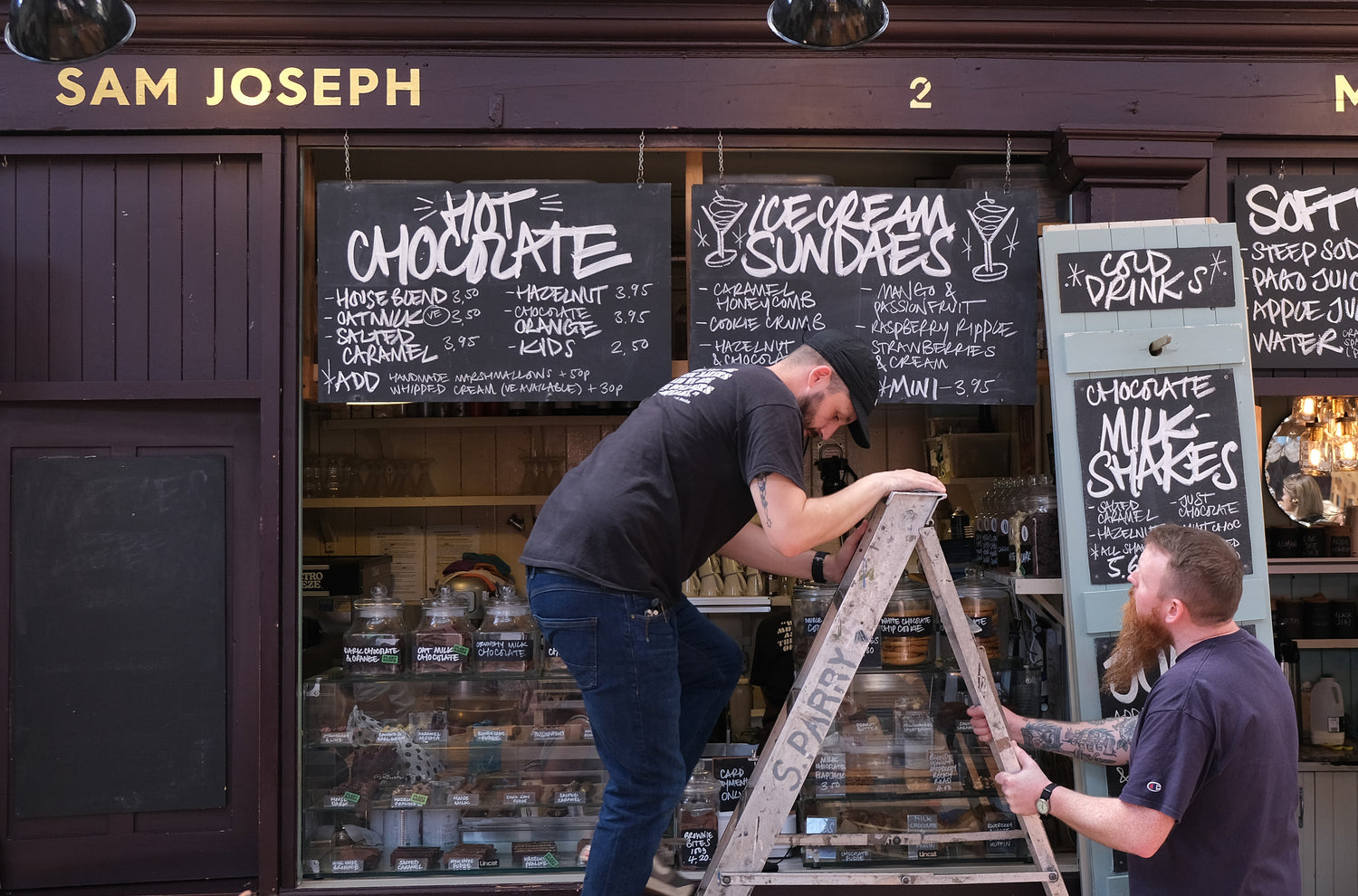 Market house - 2023
As we approach a remarkable decade as part of the Market House family, our heartfelt gratitude extends to each and every customer who has supported us over the years. Your unwavering support has fuelled our passion, and we look forward to continuing to exceed your expectations for another fulfilling 10 years and beyond. Thank you for being a cherished part of our journey.
Directions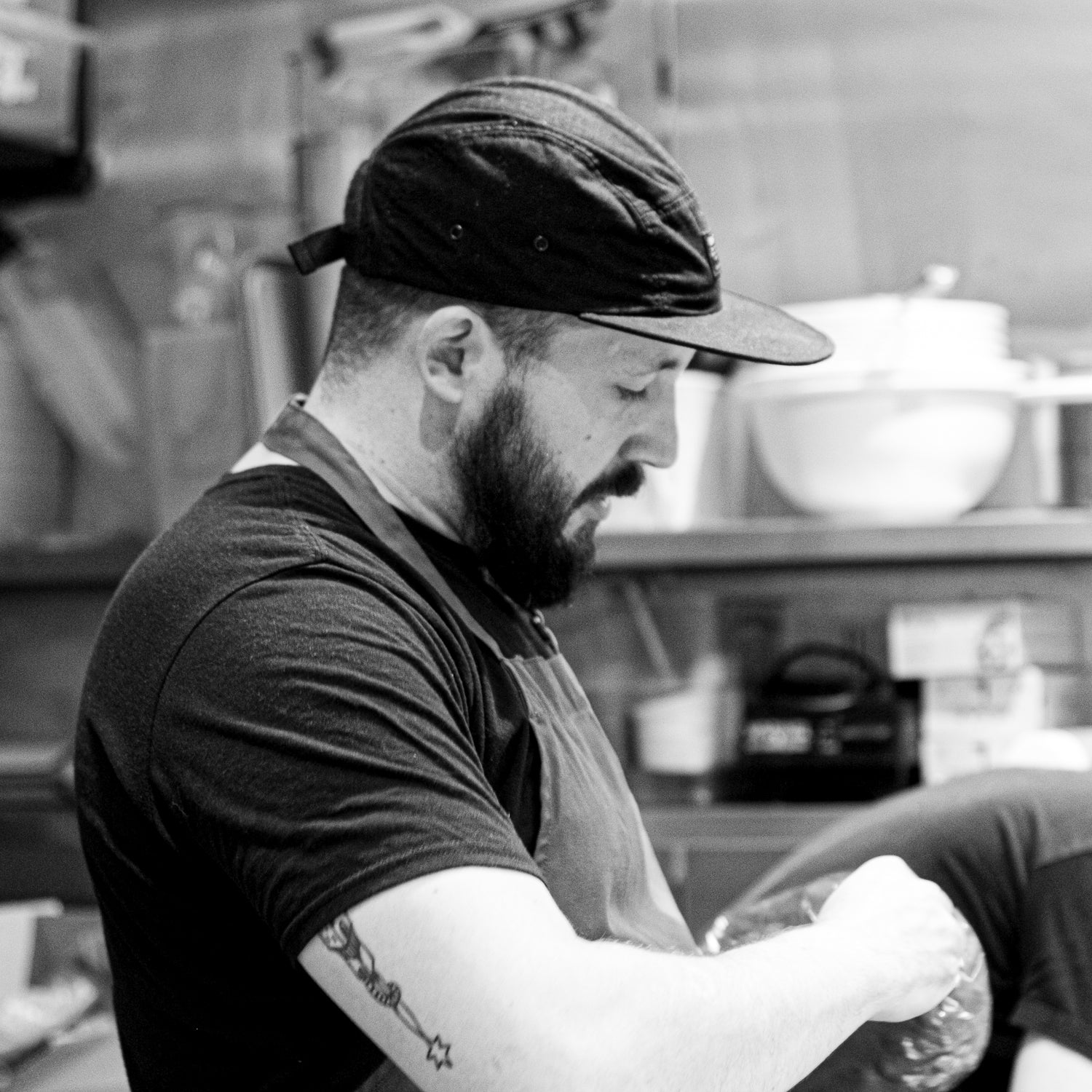 Sam
Sam's journey in the culinary world began in Newcastle, where he honed his pastry and chocolate making skills. . His culinary prowess took him across London and Manchester where he rose to the position of Head pastry chef, yet his true escape lies in the freedom of riding his beloved motorcycle across the scenic trails of Great Britain and Europe. Embracing his love for a good cup of coffee, he starts each day with a comforting brew.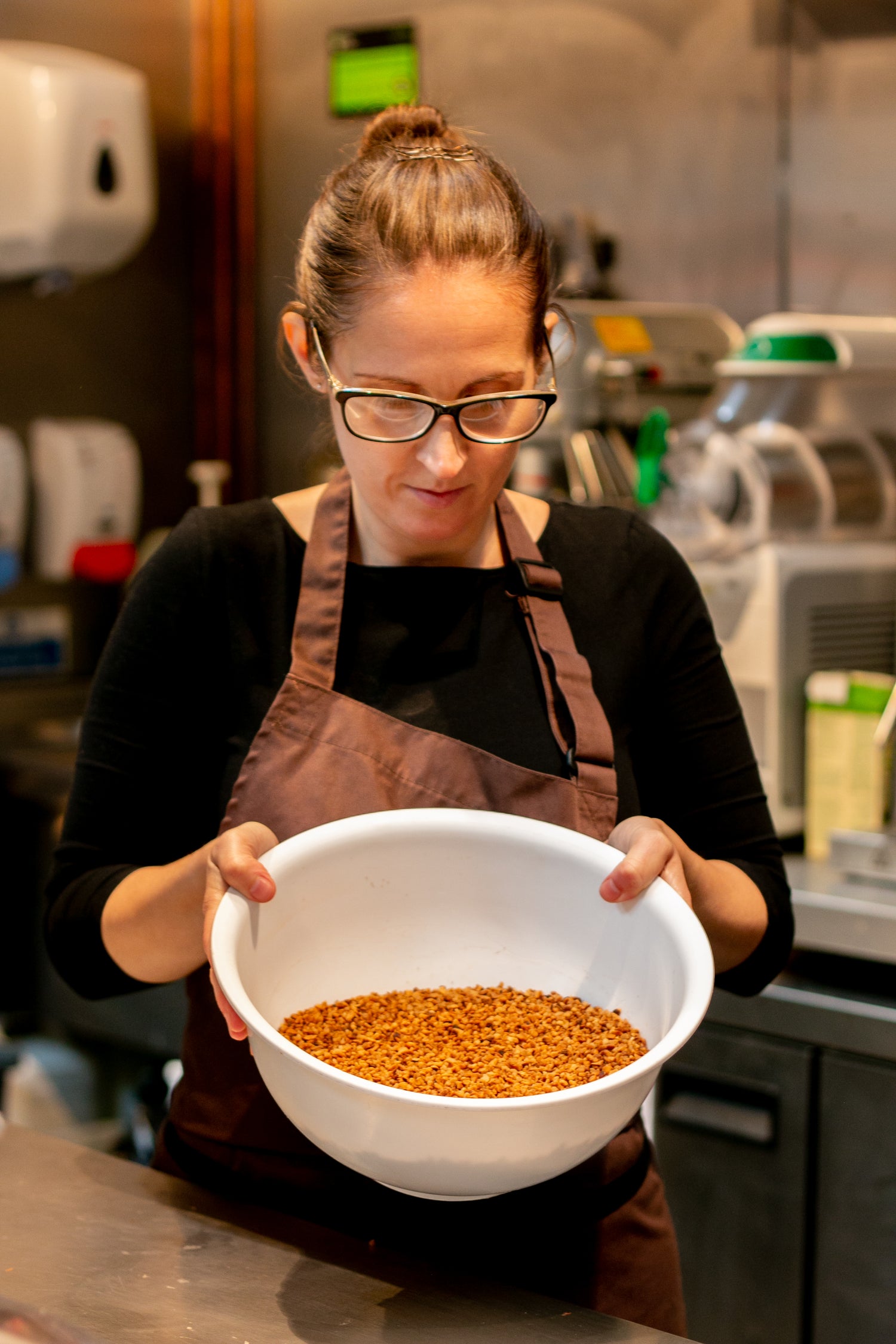 Claire
Claire's pastry chef career took root in Liverpool and navigated through Manchester and London, leading her to the position of head pastry chef in esteemed establishments. Alongside her culinary journey, Claire fortified her skills with a degree in accounting and finance, a vital asset in steering their joint venture to success. Claire's passion for exploration once led her on a globe-trotting round-the-world escapade, a stark contrast to her present contentment found in simple pleasures—a steaming cup of tea and a good book. 
As fate had it!
Fate brought Claire and Sam together at Manchester's Lowry Hotel, both dedicated to their craft. Now, as a married couple and proud parents to two children, they unite their passion for chocolate, crafting their sweet empire side by side. As much as Sam and Claire are the architects of delectable treats, their children serve as the primary taste-testers 😋🍫!